The first hydro-infrastructure project to be completely carbon neutral designed to produce and make available a massive ongoing amount of pure, clean water for municipal, industrial, farming and biotech consumption.
Desalination facilities based on technology that mirrors the natural hydrological cycle process: evaporation, condensation and precipitation, with only the sun as the energy source.
The technology involves a dome – a hydrological sphere – constructed from steel into which sea water flows. The energy generated to super heat the continuous inflow of water and to create a constant water cycle within the dome – the equivalent of up to 20,000 suns – produced by focusing concentrating solar radiation, from parabolic mirrors (heliostats) surrounding the domes, onto the steel structure. Through this process, the sea water evaporates, condenses and is precipitated as fresh water.
Seawater Intake
In a Solar WaterTM installation, freshwater will be generated from the evaporation of a constant inflow of seawater fed into a large scale geodesic dome steel structure (in various diameters from 20m to 50m to 80m.
Solar Power heats the Dome
The water is then heated using energy produced by solar radiation enhanced by the use of solar energy mirrors (heliostats) reflecting sunlight continuously onto the dome throughout the day.
Seawater is Superheated
The radiative flux is focused and super-conducted down to the lower dome to boil the seawater creating a cauldron effect.
Condensed & Precipitated
The resulting fresh water can then be used for irrigation, industrial or general household purposes, and can undergo secondary treatment as necessary for drinking water.
The Four Subsystems
The Solar Water
TM
Desalination Plant comprises 4 subsystems:
Intake subsystem
Freshwater production subsystem
Freshwater supply subsystem
Salt/Brine removal subsystem.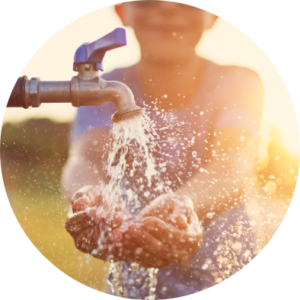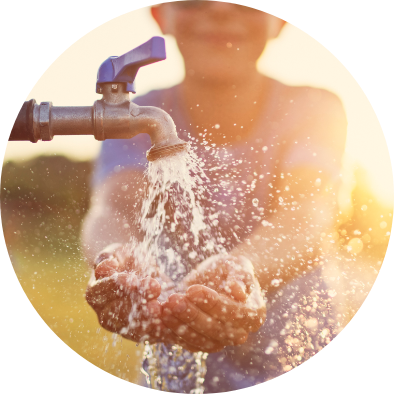 Volume of Fresh Water
The output of fresh water from the Solar WaterTM domes will provide many thousands of cubic metres of fresh water per day.
There are many variables involved – size of the dome, geography, latitude, availability of continuous sunlight, the number of heliostats and ambient operating conditions. The exact costings and volumes will be determined on a case by case basis, with the dome size being important.
SOLAR WATER™ TECHNOLOGY
CAN CHANGE THE WORLD
Positively affect climate change through unlimited water recovery, generation and reforestation

Produce inexhaustible supplies of water for sustainable livelihood and socio-economic development

Use carbon neutral solar power to produce desalinated water for global multi-purpose use

Stop unsustainable desalination methods, reducing damage to the world's ecosystems.