Article by Startus-Insight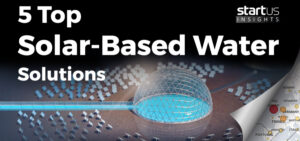 Our Innovation Analysts recently looked into emerging technologies and up-and-coming startups working on innovative solutions in the energy sector. As there is a large number of startups working on a wide variety of solutions, we want to share our insights with you. This time, you will discover 5 promising startups developing solar-based water solutions.
Heat Map: 5 Top Solar-Based Water Solutions
Using our StartUs Insights Discovery Platform, covering 1.379.000+ startups & scaleups globally, we looked at innovation in the field of renewable energy. For this research, we identified 193 relevant solutions and picked 5 to showcase below. These companies were chosen based on a data-driven startup scouting approach, taking into account factors such as location, founding year, and relevance of technology, among others. Depending on your specific criteria, the top picks might look entirely different.
The Global Startup Heat Map below highlights 5 startups & scaleups developing innovative solar water solutions. Moreover, the Heat Map reveals regions that observe a high startup activity and illustrates the geographic distribution of all 193 companies we analyzed for this specific topic.
Solar Water – Solar-Powered Desalination
Seawater is abundant in nature and desalination of seawater results in the production of drinkable water for agriculture and individual consumption. Traditional desalination plants use electricity from the grid to power their boilers. Since this is not a sustainable way to produce clean water, startups and scaleups are looking to leverage the advancements in renewable energy to power desalination plants.
British startup Solar Water develops carbon-neutral and solar-powered hydro-infrastructure for desalination plants. The startup leverages proprietary technology that is based on a hydrological sphere, made of glass and steel, to desalinate seawater. A large number of parabolic mirrors surround the dome to further maximize the concentration of solar radiation. The brine that gathers at the bottom of the dome's basin is also extractable and holds commercial value. The resulting freshwater finds application in irrigation, industrial or general household purposes, and undergoes secondary treatment to become potable water.
Nexol Photovolthermic – Photovoltaic Water Heating
Conventional water-heating processes use up precious fuel resources that are rapidly declining. However, advancements in photovoltaics (PV) technologies enable clean energy generation and capture waste heat to power water heaters. Startups develop photovoltaics-based solutions to reduce emissions and encourage the use of renewable sources of electricity to power buildings.
German startup Nexol Photovolthermic manufactures photovoltaic water heaters. The startup's solution integrates the advantages of photovoltaics, solar thermal energy, and solid-state semiconductor technology to develop novel photothermal water heaters. Nexol's solutions use 1 watt-hour of electrical energy to generate 4 watt-hours of thermal energy, depending on the temperature in the water tank. Further, the startup's solid-state semiconductors enable an increase in the lifespan of the water heaters.
OffGridBox – Simultaneous Solar & Water Generation
A shortage of clean water deters economic development to a large extent. Renewable energy technologies provide opportunities to circumvent capital-intensive infrastructure investments required for traditional electrification projects. Simultaneous generation of electricity and water using solar energy, along with filtration, significantly improves the energy independence of remote and off-grid locations. Startups develop innovative solar energy-based solutions that are capable of cogeneration.
The US-based startup OffGridBox aims to increase access to clean water in developing countries, and in particular, for the rural regions. With the help of its OffGridBox, the startup enables the generation of electricity and clean water. The solution is compact and takes up approximately 216 cubic feet of space in a shipping container. The solar panel array is integrated with a rain capture system. This solution is equipped with a water storage tank that first sends water through a filtration and sterilization system that is powered by solar energy.
Solar Water Solutions – Solar-Powered Reverse Osmosis (RO) Filtration
Brackish water has similar salinity levels as seawater and is suitable for filtering by employing reverse osmosis (RO). Advancements in renewables technologies, especially solar and wind, enable the generation of low-cost and sustainable electricity. Startups develop reverse osmosis solutions that are powered by solar energy to reduce energy costs and carbon emissions.
Finnish startup Solar Water Solutions offers RO filtration units that operate with solar power. The startup's Sea Water Series is capable of filtering 250 liters per hour to 7000 liters per hour. Another solution, the Brackish Water Series includes products with filtration capacities ranging from 150 liters per hour to 1500 liters per hour. The startup also enables users to switch easily between the grid or the generator during non-solar hours.
Gelsons Corporate – Solar Water Pump
Tapping into the water table with the help of borewells is a common practice in many regions that are dependent on seasonal rainfall. However, the practice of using exhaustible fuel resources is not sustainable, in particular fossil fuels such as diesel. Technological advancements in renewable energy design and purposes enable startups to develop green low-cost solutions to pump water.
Indian startup Gelsons Corporate provides water pumps that run on solar electricity. The startup provides solar panels to generate electricity, as well as a controller, to match the output of any pump. Additionally, the controller acts as a regulator in case of voltage fluctuations. The startup provides 5 horsepower systems that deliver 124,000 liters of water per day. For small-scale operations, such as gardening, drinking water for cattle, or landscaping, the startup provides direct current (DC) motors that are rated under 3 kilo-watts.
What About The Other 188 Solutions?
While we believe data is key to creating insights it can be easy to be overwhelmed by it. Our ambition is to create a comprehensive overview and provide actionable innovation intelligence and enable you to achieve your goals faster. The 5 solar-based water solutions showcased above are promising examples out of 193 we analyzed for this article. To identify the most relevant solutions based on your specific criteria, get in touch.